Waves seasons are equal in both areas (mainland & islands), but Galapagos has more consistency, quality and power conditions. Also, Galapagos water temperatures are always cooler than mainland. To know more about mainland Ecuador & Galapagos surf forecasts and conditions, check links. North swells start to arrive from Dec. thruogh March. Then south swells prevail rest of year(south swells from Antartica ocurr throughout year)
Galapagos can have world class waves and conditions, especially on northern swell season, December to March (hot season) when north to northwest swells arrive. On April thru' June is best for SouthWest swells and conditions still good. Rest of year is windier and cooler waters but still waves keep coming from South. But of course, donít take my word, cause I am over 50 rounds around the sun. Just come see for yourself and/OR check out: SURFER MAG AGT/97 on Galapagos. iF WANT TO CHECK VIDEOS ON GALAPAGOS & ECUADOR WAVES (ALTHOUGH NOT SHOWING REALLY SIZE) TYPE in youtube "GALAPAGOS & ECUADOR SURF VIDEOS" . CHECK "ECUADOR SURF PELADO", "ECUADOR SURF TRIP 2004" AND "SURFING BIG WAVES IN GALAPAGOS"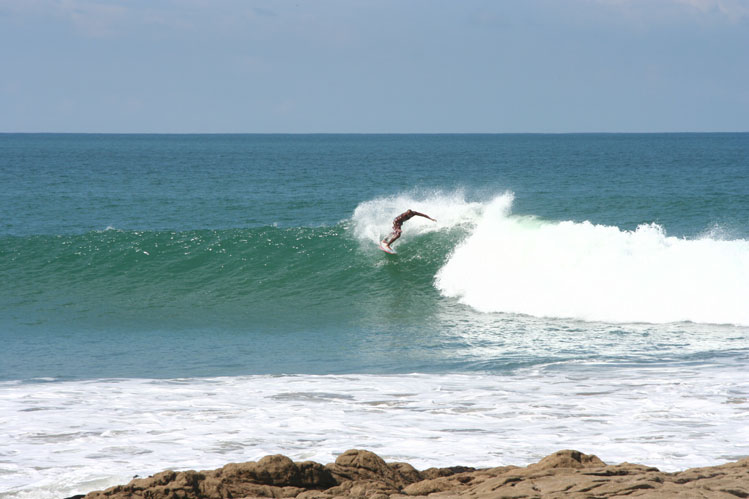 Photo: Ricardo Nuñez - Feb
So, best time to come surfing mainland Ecuador & islands is hot season, but that does not mean there is no good waves during other season or rest of year. Southern swells come year round, but are usually stronger from May to October or the Southern Hemisphere winter. So you can surf Galapagos & Ecuador, year round. And with good conditions also. Especially at Galapagos, you can head for San Cristobal Island and find good to excellent surf all year at walking distance. Average size at Galapagos: 4-8+ up to 15 at certain areas. Average size at Mainland Ecuador: 3-6+ up to 10+ at certain areas.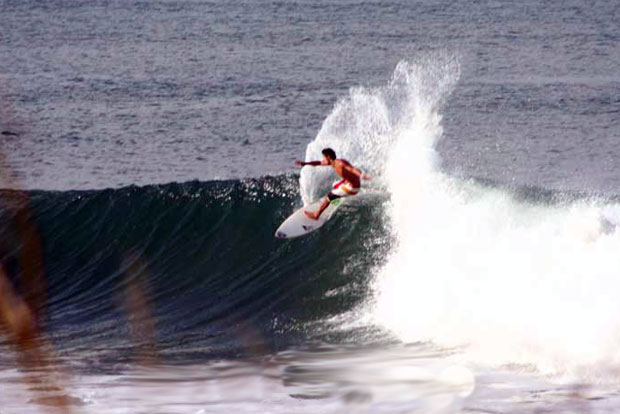 Photo Ricardo Nuñez
Ecuador surface water temps can be from 22-24 Celsius (Cool season) to 24C(hot season) to 24-28+C(El Niño). NO NEED FOR LONG SURF WETSUITS. On Cool season only early morning surf could demand a spring wetsuit or vest/lycra.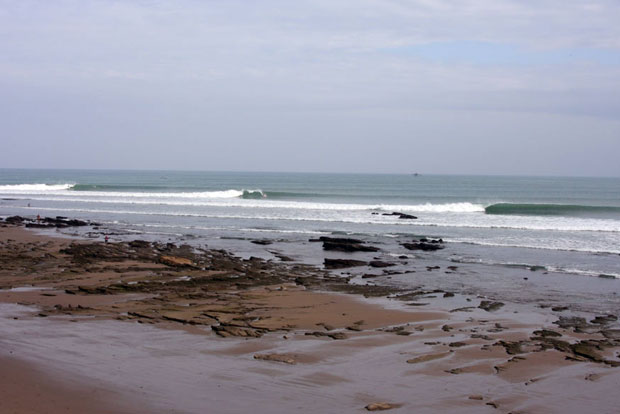 Photo Ricardo Nuñez- Jan
So,for Ecuador mainland bring no more than a spring wetsuit on Cool season (June-Nov) and just in case, long sleeve lycra, on Hot Season (Jan- May). Winds average 8-16 kts. to make it chilly especially early a.m. surf. Mainland warmer couple degrees up.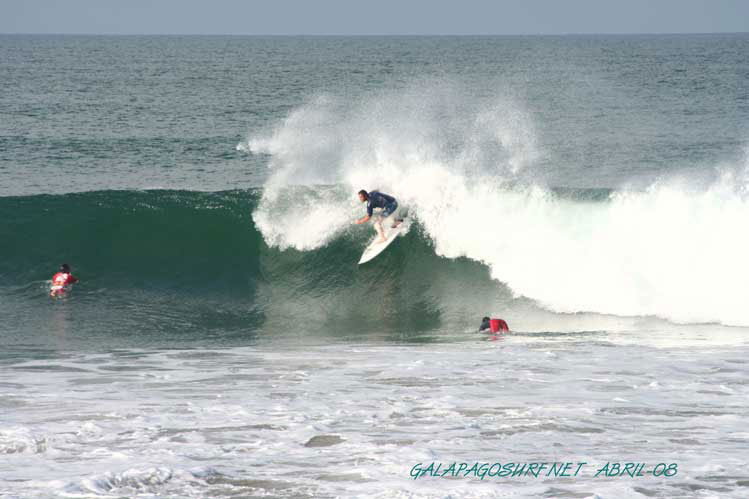 Photo Ricardo April
For northern swells come end of December-March, for south to s.west, west swells: April-June. Rest of year, basically only south to Southwest swells and more windy and cooler.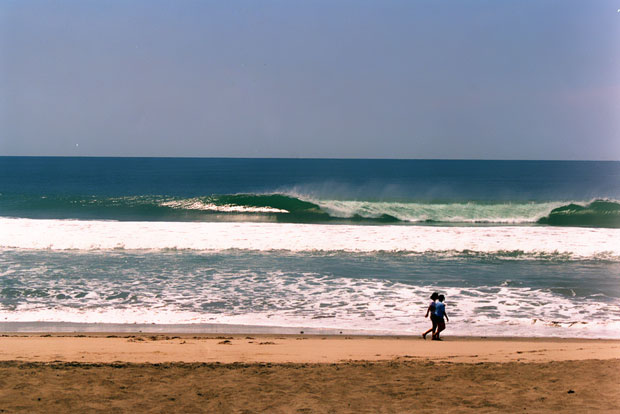 Photo Ricardo Nuñez 2004 Manabi
But Remember: This is the equatorial south pacific, so sometimes there could be flat days. But, if you come with an good traveling attitude you will sure have a great time enjoying wildlife, diving, even without waves, etc. Although, I can say surfable wave occurrence is high during best seasons.